George S. Sava
Licensed in 1997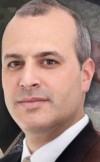 Partner
Commercial Litigation
Sports & Entertainment
george@portandsava.com
Mr. Sava is a member of the Commercial Litigation and Sports & Entertainment Groups. His practice focuses on complex commercial litigation in both New York State Court and New York Federal District Courts, representation of both prominent professional athletes and sports associations, and film and music production. Among other things, he has successfully argued before the appellate courts of New York to include the New York Court of Appeals on behalf of a Federal Bank. He has also successfully negotiated numerous high level sports and film agreements. As part of Mr. Sava's Entertainment Law practice he is the principal lawyer for BoroughCon, a New York City, Outer Borough focused Comic/Amine/Gamer and Pop culture convention to be held Memorial Day Weekend 2017 at St. John's University. Visit the project at www.Boroughcon.com
Before joining Port & Sava, Mr. Sava was a partner at Flood Donohue Johnston & McShane, P.C. – a commercial litigation and sports & entertainment firm in New York.
From 1998 to 2008, Mr. Sava held a commission as a Captain in the United States Army Reserve, where he was qualified to practice as a Judge Advocate. A veteran of Operation Enduring Freedom, his service culminated as the Acting Staff Judge Advocate for a Combat Zone Theater of Operation, the Combined Joint Task Force – Horn of Africa.
Admitted in
Court Admissions
Eastern District of New York
Southern District of New York
Education
Graduate Studies, Harvard University, Harvard Extension School, 2002
J.D., Yeshiva University, Benjamin N. Cardozo School of Law, 1996
B.B.A., Radford University, 1991
Prominent Decisions
Abacus Fed. Sav. Bank v ADT Sec. Servs., Inc., 18 N.Y.3d 675 (2012)
Squitieri v Squitieri, 90 A.D.3d 500 (1st Dep't 2011)
Iannucci v Kucker & Bruh, LLP, 42 A.D.3d 436 (2d Dep't 2003)
Rodriguez by Rodriguez v Presbyterian Hosp., 259 A.D.2d 310 (1st Dep't 1999)
Torres v Consolidated Edison Co, 258 A.D.2d 426 (1st Dep't 1999)
Call Now at (516) 352-2999 for a consultation.